The Mindfulness Team:
We are David Teva and Emma Leuchten '19 and we are committed to making Wesleyan a more mindful place. We believe that resources such as meditation and yoga can help students navigate and appreciate the world around them and allow them to immerse themselves in or experience the now. This is a new website, so please contact us with questions and comments. All feedback is welcome!
David Leipziger Teva:
David is currently the Director of Wesleyan's Office of Religious and Spiritual Life. In 2011, David adapted John Kabat Zinn's Mindfulness based Stress Reduction (MBSR) protocol for Higher Education and specifically for the Wesleyan community. Together with meditation coach Scott Kessel '87, MALS '92, and Professor and yoga instructor Amy Lynn Tate, they teach a 6-week mindfulness course every semester, typically on Monday afternoons/evenings.  He can be reached at dleipziger@wesleyan.edu.
David's Office hours are:
Monday 3:00-5:00pm
Thursdays 3:30-5:00pm
169 High St. (corner Church St)
Second Floor.
The Mindfulness Intern for 2018-2019: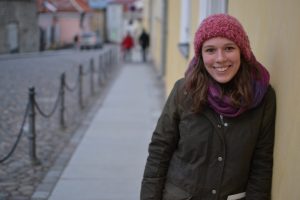 Emma Leuchten '19 is a Religion and Anthropology double major. She began meditating in high school and has since studied in mindfulness, Zen, Vipassana, and Tibetan Buddhist meditation traditions. She loves animals, dreaming, cooking, and traveling. Emma is excited to meet and practice with mindful students this semester and would be happy to serve as a resource for anyone new to Wesleyan's mindfulness community! You can reach her at eleuchten@wesleyan.edu.